Proceedings
The extra volume of Publicacions Matemàtiques devoted to the Proceedings of the Conference "New Trends in Dynamical Systems" is already published.
If you are interested to buy one, please send an email to pubmat@mat.uab.cat.
List of published papers by alphabetical order.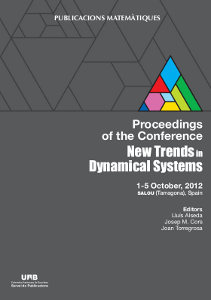 In 2010 the impact factor of this journal was 0.674 and the ranking position in the Mathematics list of JCR-ISI was 106/277.
The prize of the proceedings is 45 Euros.